Cleaning Methods
Carpet Cleaning
Our professional method of carpet cleaning begins by pre-spraying the carpets to loosen tough dirt and soil. We then steam extract the carpet by using our power extractor attached with rotary brushes which lifts the carpet pile for a deep and thorough cleaning. Our carpet machines are also equipped with external heaters which are highly effective in cleaning heavily soiled carpets. These techniques in combination with the use of the Procyon products, which do NOT contain any soaps or detergent residues, results in carpets that look great and stay cleaner for a longer period of time.
Procyon Products
At MFD Cleaning we utilize Procyon Products certified under the Green Seal's Revised GS-37 2008 Standards. These powerful, hypoallergenic, soap-free cleaning products are made with all natural ingredients and prevents stains from returning. They are odor free, non-toxic cleaners that do not contain VOC's.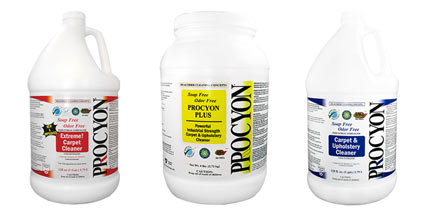 Upholstery Cleaning
Our method of cleaning upholstery starts with vacuuming the chairs to remove excess dust. The chairs are then pre-sprayed and steam extracted for deep cleaning.